English commas made easy!
Do you find it difficult to decide where the commas go in an English sentence? Get help with Commatizer!
This program will add missing commas in your English texts and offer advice on superfluous ones as well. Commatizer classifies comma errors into over 30 different categories, and can therefore provide targeted explanations and examples for each suggestion. In addition, explanations are also available for most existing, correct commas. For more information on comma types and errors, please see our English comma manual.
A colour scheme is used to distinguish between obligatory and optional commas, and you can choose if you want to see the optional suggestions. Furthermore, each error type can be turned on or off individually, for instance for stylistic or pedagogical reasons.
In 1912

Missing introduction comma

the biggest passenger liner was the Titanic

Missing opening comma in relative clause

which sank on its virgin voyage.
I actually have really great neighbors in my building

Missing main clause comma

and I have to admit,

No comma between verb and object

apartment life is a good way to get to know them.
To provide free health care for all,

No comma between subject and verb

is a noble political goal.
Great food and

Missing parenthetical opening comma

of course,

Correct parenthetical closing comma

terrific entertainment.
Commatizer runs online in your browser, Microsoft Word, or Google Docs, on a variety of different platforms. All kinds of texts are handled, and you can copy-paste existing text into the program window without losing formatting information.
You get a high-quality tool based on many years of university-level research and development. Correction suggestions are very reliable and build on a deep grammatical analysis of your sentences.
Single-user subscriptions1 start at DKK 32,- (EUR 4.50) per month. For an institutional or company license, or for a free trial period, please contact us. There is free access for employees and students at SDU (University of Southern Denmark).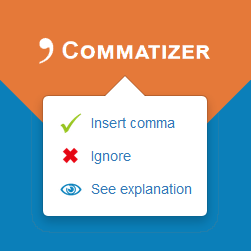 Subscription type
6 months2
12 months2
Combinations5
Commercial use (single-user license)
900 DKK
150/month,
720 excl. VAT
1500 DKK
125/month,
1200 excl. VAT
Select
Private use4 (personal & family license3)
450 DKK
75/month,
360 excl. VAT
750 DKK
63/month,
600 excl. VAT
Select
Student (single-user license)4
225 DKK
38/month,
180 excl. VAT
375 DKK
32/month,
300 excl. VAT
Select
Single-user licenses are strictly personal and may not be shared with anyone. Violations will lead to account termination.
Note that this is a recurring subscription, managed and paid via PayPal.
Family license may be shared within a household. Max 5 devices may be logged in to an account at any one time.
Private use is for internal documents, learning, and other uses where the final result is not used in a professional/commercial context. If you use the tool at work, for publication, company mail, etc., this will fall under commercial use.
Simultaneous subscriptions to more of our services (RetMig, Kommaforslag, Commatizer, Kommatroll) earn a discount, as does multi-user subscriptions.
Welcome to our new English comma checker! Existing
Kommaforslag
and
RetMig
customers have free access until at least July 1st, 2021.